The Waste Electrical and Electronic Equipment (WEEE) Regulations came into effect on 1st July 2007.
The regulations aim to:
Reduce waste from electrical and electronic equipment
Encourage the separate collection of WEEE
Encourage treatment, reuse, recovery, recycling and sound environmental disposal of WEEE
Make producers of EEE responsible for the environmental impact of their products
Improve the environmental performance of all those involved during the lifecycle of EEE
CCL's WEEE producer registration number is WEE/BC0003ZR.
The Environment Agency has published the following information:
The WEEE Directive aims to minimise the amount of WEEE householders throw out with their general rubbish. By keeping WEEE separate from other waste it can be treated, the hazardous substances can be removed and a large amount of waste can be recycled rather than sent to landfill.
Householders won't be banned from disposing of WEEE in their bin but the WEEE regulations will see a network of collection points for WEEE established and householders should find it easier to recycle their old equipment. This may be through improved local authority civic amenity (CA) sites or new take-back facilities provided by retailers. New arrangements are operating now.
Householders can:
Ask the retailer if they will take products back
Take old appliances to their local civic Amenity site
Arrange for their local authority to collect the equipment (some local authorities provide a free collection service and others charge)
Arrange for an electrical retailer delivering new equipment to take away the old appliance.
Householders are now covered by the Duty of Care and must ensure they only pass their waste to a Registered Waste Carrier or other approved person.
The WEEE Regulations require retailers:
To provide a free take-back of WEEE from householders
To actively encourage householders to separate WEEE from their normal waste streams and dispose of it in the spirit of the Regulations
Look out for this symbol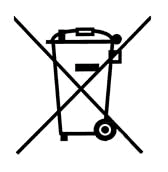 To help customers identify Waste Electrical or Electronic Equipment, a crossed out wheeled bin logo has been affixed to the product. If the symbol shown here is found on any of your goods, it means that the product is classed as Electrical or Electronic Equipment and is covered by the WEEE Regulations.
CCL Take-back Scheme
CCL customers are able to return WEEE free of charge - please enquire about our collection service, if it is being replaced by CCL with new equivalent EEE.
Recycling Portable Waste Batteries
Under the Waste Batteries and Accumulators Regulations, CCL operate a battery take back scheme for all portable waste batteries.
Customers whom wish to dispose of old batteries (i.e. laptop batteries) may return them to the CCL Technical Counter for collection and recycling via BatteryBack PLC.
If you are not local to CCL Computers, most supermarkets and shops that sell batteries will have collection bins which may be more convenient. Please do not post waste batteries.
More Information
Please contact qualityassurance@cclonline.com for more information.
Find out how to minimise your effect on the environment by visiting: www.recycle-more.co.uk.