FireCuda Gaming Drives
Upgrade your gaming experience with Seagate® FireCuda® high performance drives. Save time with a drive that boots in seconds, not minutes.
Up to 30x faster than traditional hard drives to boost your productivity and game load speeds. With up to 4TB of storage, FireCuda lets you store up to 160 25GB games. FireCuda's 5-year limited warranty is best-in-class for drive warranties.
FireCuda NVMe & SATA SSDs
Dominate With Ferocious Speed
FireCuda® 520, FireCuda 510, & FireCuda 120 SSDs were developed and built specifically with the needs of professional-level gamers in mind.
How far could you go with a gaming SSD built for industry-leading speed, superior gaming, sustained abuse, and the lowest latency?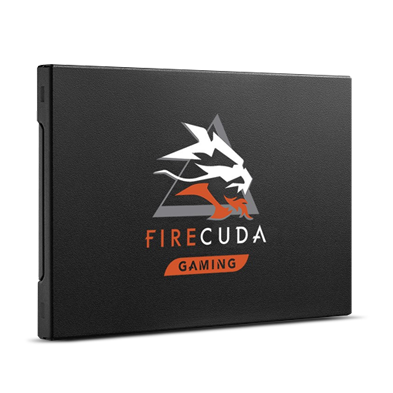 FireCuda 120 - Market Leading Endurance
Seagate FireCuda® 120 is purpose built for PC gaming - featuring fast speeds, huge capacity and solid endurance. A compact 2.5" x 7 mm form factor and SATA 6 Gb/s interface make for easy builds, and maxed out speeds of up to 560/540 MB/s (seq. read/write) mean a snappier machine and faster load times. Multiple capacities of up to 4TB allow for more room for games and less deleting. Plus, with industry-leading endurance of up to 5,600TB TBW (Total Bytes Written) and 1.8M hours MTBF (Mean Time Between Failures) this drive can play hard for a long time.