Never-Ending Global Data Expansion - Data Age 2025
Mankind is on a quest to digitize the world - even more so than anyone thought just two years ago. Digital data growth is soaring at an incredible rate. In 2018 alone, digital data created, captured, replicated and consumed a whopping 33 zettabytes of data - and this is expected to balloon to 175 zettabytes by the year 2025, with enterprise being responsible for creating up to 60% of this data. How much is a zettabyte? A zettabyte is approximately 1 billion Terabytes or a trillion Gigabytes. In other words, if you store 175 zettabytes on Blu-Ray discs, you can stack them all the way to the moon, 23 times! That is an incomprehensible amount of data which is only set to increase.
Seagate announced the publication of International Data Corporation's (IDC) newest major analysis of data trends: Data Age 2025 - The Digitization of the World From Edge to Core. For over fifty years, IDC's been a highly respected provider of intelligence about IT, telecom and consumer technology applications. IDC has published regular updates tracking, examining and explaining the development of our ever-advancing, highly connected data-hungry world.
This new Data Age 2025 white paper delves deeply into the ramifications for key industries of the need for data readiness, the enormous growth in data-intensive applications, and the evolution of the IT infrastructure. As part of the new research, IDC has developed a "DATCON" (data readiness condition) index to help companies understand their readiness for managing, analyzing and storing the surge in data, and identify gaps that need to be addressed.
There's no doubt about the future needs for storage. To keep up with the storage demand stemming from all this data creation, IDC has actually increased its forecast for the quantity of storage devices required to meet demand - it now projects that over 22 zettabytes of storage capacity must ship across all media types from 2018 to 2025, with nearly 59% of that capacity supplied from the hard drive industry.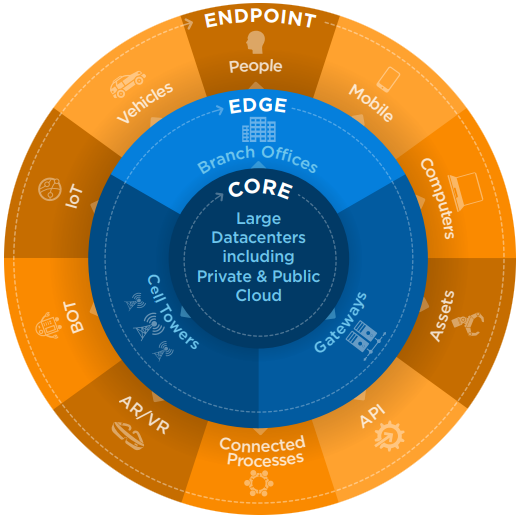 The enterprise is fast becoming the world's data steward…again
With all of today's improvements in bandwidth and cloud infrastructure, the enterprise is once again becoming the primary steward of data. The Digitization of the World study predicts that the installed bytes across the enterprise — including cloud (which is seen as the new core) and the edge — is expected to represent over 80 percent of total installed bytes worldwide in 2025.
And this trend is happening now - in fact, as consumers depend more and more on accessing their data remotely, IDC expects that beginning in 2019 more data will be stored in the enterprise core than in all the world's existing endpoints.
Cloud is the new Core
Today, as greater numbers of devices with greater levels of intelligence are connected to various networks, businesses and consumers are finding the cloud to be an increasingly attractive option that enables fast, ubiquitous access to their data.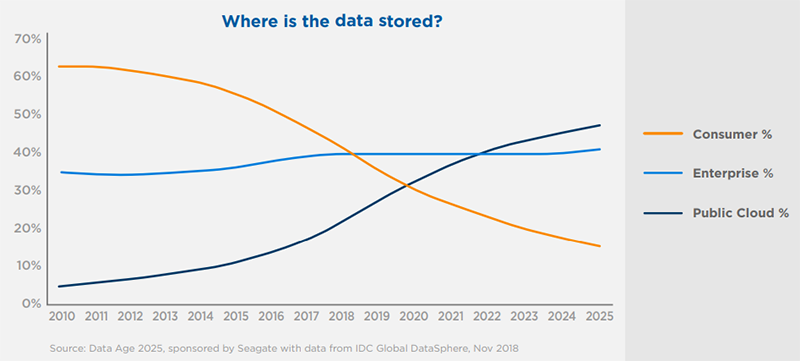 Business models and the location of data management may be changing, but the technical requirements and challenges remain. Data must be archived and stored in ways that provide appropriate levels of performance and enable analytics and intelligence to be applied to them, but it must be done cost-effectively and securely.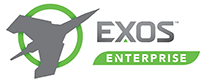 Seagate Exos Systems provide high-capacity hard drives with an enclosure that leverages up to 106 devices, and can provide up to 1.4PB of data in only 4U of rack space or 168TB in only 2 rack units, low TCO and 12Gb/s speed. Learn More
Increasing demand for Real-Time data
IDC predicts that by 2025 nearly 30% of the global datasphere will consist of real-time data and that more than 150 billion devices will be connected across the globe, most of which will be creating data in real-time. Real-time data represents 15% of the Datasphere in 2017, and nearly 30% by 2025.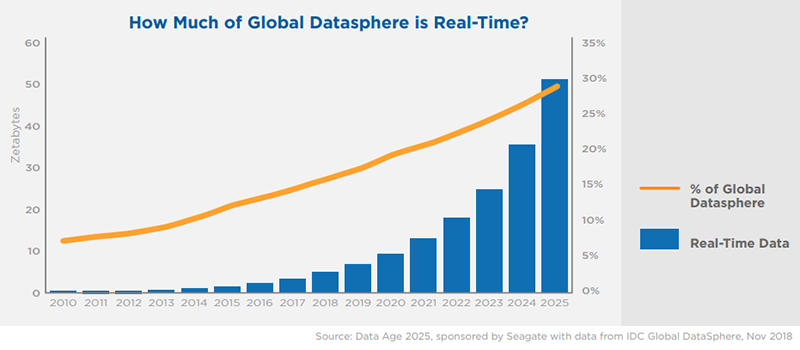 Automated machines drive a lot of the demand for real-time data, however, IDC estimates that by 2025 every connected person in the world on average will have a digital data engagement over 4,900 times per day.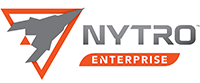 Seagate Nytro Systems support the datasphere with blazing speed that enables real-time business responsiveness, instantaneous data availability and meaningful insights. Learn More
Demand for storage remains strong
The amount of data created in the Global Datasphere is the target for the storage industry and there is still a growing demand for storage capacity across industries, governments, enterprises, and consumers. IDC forecasts that over 22 zettabytes of storage capacity must ship across all media types from 2018 to 2025 to keep up with storage demands. Around 59% of the capacity will need to come from the HDD industry and 26% from flash technology. Optical storage mediums show signs of decline as consumers increasingly rely on media streaming services over DVDs and CDs.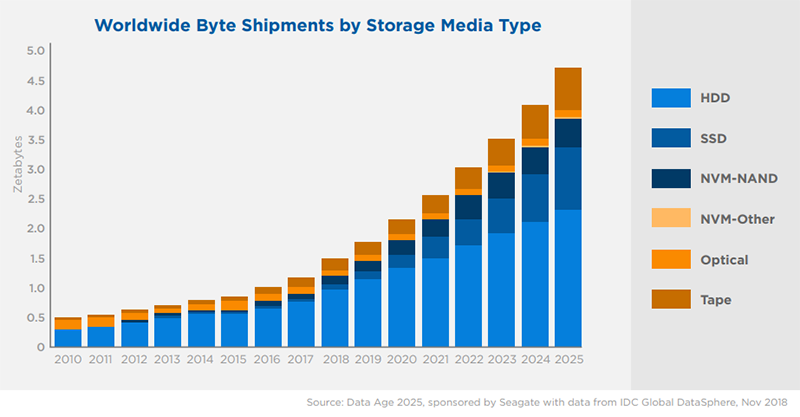 The growth in Endpoint and Edge storage will mostly be in Solid State while the Core will continue to prefer Hard Disk Drives and tape which provide better economy per byte. Enterprises will still use a mix of HDDs, SSDs, Flash, and tape to satisfy the their performance, management, and archive demands. By 2025 over 80% of the Enterprise storage demand will continue to be HDD when compared to SSD and NVMe.
You can read the full white paper on Data Age 2025 here.