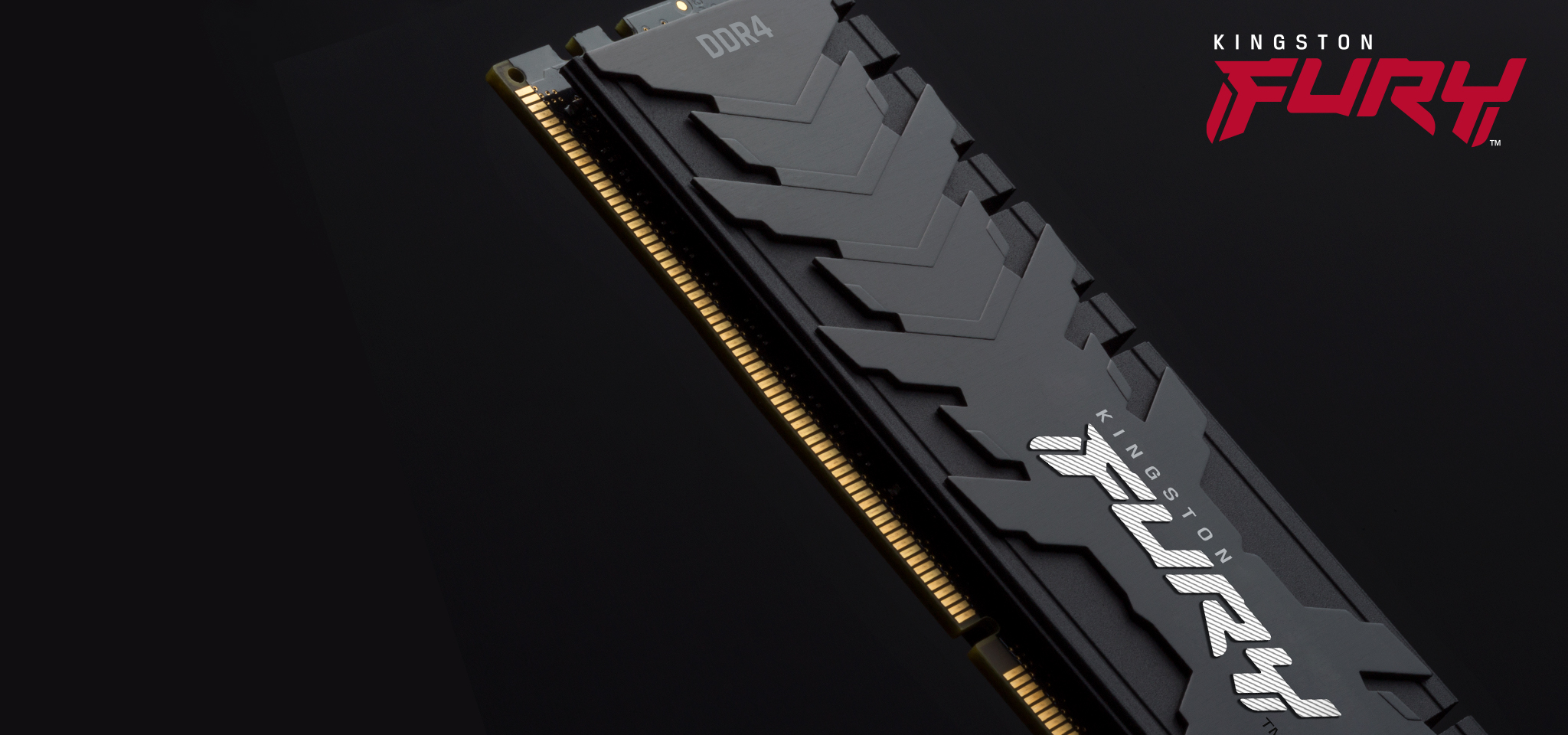 View larger

Kingston FURY Renegade DDR4 Memory

Give your AMD- or Intel-based system the performance needed to stay atop of the food chain with ultra-fast Kingston FURY™ Renegade DDR4. Boost your frame rate, keep your streams broadcasting smooth, and plow through your highlight reel editing with speeds up to 5333MHz1 paired with quick CL12-CL20 timings. The aggressive, stylish black heat spreader and matching black PCB will allow you to beat the heat and strike fear into the hearts of your foes. It's available in single module capacities of 8GB - 32GB and kits of 2, 4, and 8 with capacities of 16GB-256GB. Renegade DDR4 is Intel XMP certified with profiles that are optimized for Intel's latest chipsets – just select the hand-tuned profile in your BIOS and you're ready to go. 100-percent factory tested at speed and backed by a lifetime warranty and over 30 years of expertise, dependable Renegade DDR4 gives you the best of both worlds: extreme performance and maximum peace of mind.

High speeds matched with low latencies to deliver extreme performance
Intel XMP profiles optimized for Intel's latest chipsets
Ready for AMD Ryzen
Fierce black aluminum heat spreader
Lifetime warranty

With speeds of up to 5333MHz1 paired with quick CL12–CL20 timings help your AMD- or Intel-based system power through games, video editing, and broadcasting, Renegade DDR4 is the choice for overclockers, PC builders, and gamers.

Intel Extreme Memory Profile technology makes overclocking a breeze. Simply select one of the built-in, hand-tuned profiles in your BIOS to get the benefits of overclocking without having to manually adjust the memory timings yourself.

Get memory that's Ready for Ryzen and will seamlessly integrate with your AMD-based system. A reliable, compatible performance boost for your build.

The dense black aluminum heat spreader and matching black PCB keeps your rig running and looking cool.

Kingston FURY memory modules are 100% tested at speed to ensure they are free from manufacturing and material defects. Renegade DDR4 is backed by a lifetime warranty and over 30 years of experience.
Some legacy chipsets/processors from Intel prior to 8th Gen have not been updated to support memory modules featuring DDR4 16Gbit density DRAM. Check with system or motherboard manufacturer for an updated BIOS to support 16Gbit DRAM.
The specification of the extreme overclocking modules listed on this page may be beyond the capabilities of your AMD or Intel system hardware. Careful selection of all system components (e.g. CPU, motherboard, PSU) is required to ensure these modules will function as intended.

These kits are thoroughly tested and verified in the factory to run at the listed speed for XMP Profile 1. 2. As a backup, a 2nd XMP profile at a slower clock speed is included so you can still achieve great performance if your system cannot handle the highest speed XMP profile.

As a guide you can find the processors and motherboards Kingston FURY™ used to perform the Intel XMP certification on this page: https://www.intel.com/content/www/us/en/gaming/extreme-memory-profile-xmp.html. This is not a guarantee of compatibility in your system configuration. We cannot guarantee compatibility with all systems; these modules should be installed and used at your own risk.

Only select AMD and Intel based motherboards are able to achieve speeds of DDR4-4000 and above. Check motherboard Qualified Vendor Lists (QVL) to verify Renegade high speed support on the motherboard vendor website and/or Intel XMP certified list. Premium system cooling (CPU and case) are required for high-speed memory stability. On Intel platforms, X or K series processors are recommended.